What You Want Is Waiting For You To Arrive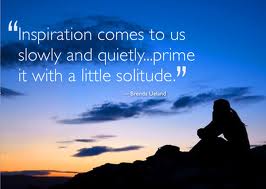 Little minds are always looking for big moments to shine their personal inadequacies onto you.  W.L. Hilliard III

Persistence is your best friend when it comes to getting what you want.  But to persist, you have to find inspiration from within over the long haul of life.
And sometimes you have to create the drive you need from nothing; you must repeatedly talk to yourself and dream your dreams, seeing them clearly in your mind's eye.  Create a collage that reflects what you want your successful life to look like; watch inspirational TV shows; and surround yourself with people who want to see you succeed.
Yes, you must be cautious about who you share your dreams with.  Even if those you believe in don't believe in you, don't be bitter or hurt; know that their energy is simply a challenge for you to continue.  Ask yourself if you're so weak as to allow someone other than yourself to determine your worth?  Because if you're that easily discouraged, you're not even "in the game";  you're actually a fan standing on the sidelines of life.
The vast majority of your friends, family and associates simply cannot relate to what you're trying to accomplish because chances are they've had their own dreams and have given up on themselves, so if they cannot inspire themselves, how in the world are the going to inspire you.
Thus, you are going to have to "do you."  You are going to have to think yourself through disappoint; carry on past criticism; and turn away from distractions and adversity to overcome the obstacles that count on you to fall victim to delusion and self-doubt.
Your Higher Power uses Tough Love to help you build character and is not going to take it easy on you so stop feeling sorry for yourself and get up off of the ground.  There will always be those you believe to be "better," as well as those you think are "worse" off than you are.
Remember, the longer you stay on the "ground" in life, the longer your enemies get to laugh at you and kick you when you're down.
What you desire is guaranteed; however, whether or not you get to where you're going depends on how deep into your soul you're willing to dig and how much "drive" you have.
. . . And when you get there . . . you will be able to see farther . . . and farther . . . until you get what you want.
I know you can do it, but do you know it?