Monthly Archives:
January 2011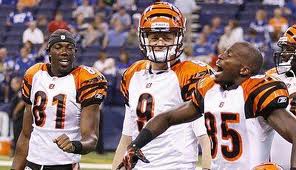 So Cincinnati Bengals quarterback Carson Palmer wants traded because his ego is bruised after a season in which he blew game (record 4-12) after game for a team that surrounded him with not only great wide receivers, Terrel "TO" Owens and Chad "Ocho Cinco" Johnson, but also a strong running game led by Cedric Benson, who's gained over a thousand yards the last two years.
But all season I never heard the severe criticism of Palmer that struggling Washington Redskin Quarterback Donovan MCNabb had to endure, thanks to the mainstream sports media.
Palmer's career stats, awards, and won-loss record couldn't hold McNabb's jock, but he's a typical franchise,  "supposed to be star" White quarterback that the sports media praises but who never lives up to the high expectations.
Before being mugged, shot, and having his career left for dead by Mike Shannahan in Washington, McNabb's record was 92-49-1 in Philadelphia.  Carson Palmer's record is a losing record, 48-52.   McNabb only had a great receiver for one year — the year he had TO  — and he took the Eagles to the Super Bowl, even though TO was out during the playoffs because of an injury.
The old adage that states:  "If you're Black you have to be twice as good to get the same credit" is true.
Johnson and Owens must have got on Palmer's nerves after he repeatedly missed them or threw interceptions, frequently going out of his way to blow games.  However, both are saying Palmer doesn't like the coach, Marvin Lewis and management.
In fact, the media was speculating that Lewis would be fired after the season but he wasn't.
But when it comes to Palmer asking for a trade, Johnson is wondering if there's a double-standard operating and will Palmer be vilified like he was when he previously asked for a trade?  Johnson tweeted :   "Carson Palmer demands a trade? Last person demanded a trade in Cincy was crucified by the media and had to win the fans back, how will this go?"
Basically, I believe that Palmer is trying to force the team owner and management's hand to trade him or get rid of Johnson and Owens, who do complain when they don't get the ball enough — mainly through body language and on-field and sideline displays of disgust.  However, I watched Johnson and Owens go out of their way for the longest time before they they said much about the team's under-achieving.  They still avoid directly criticizing Palmer because they may end up playing with him again next year and he's still the one who decides where to throw the ball.
The other problem is the Bengal's coach, Marvin Lewis.  He should be faulted for allowing Palmer to blow the team's season.  Instead of benching Palmer, he gave him the "special treatment" that only a White quarterback can get.  If Palmer were Black, he would have been benched quickly after a couple of loses, including by Lewis.  If you don't believe me, just look at the short leash for Black quarterbacks this year, including McNabb, Jason Campbell, and Vince Young.   Young even finished last season on a tear with eight wins and only two losses.  And Jason Campbell has had new coaches practically every season he's been in the NFL.
McNabb told HBO:  ""Let me start by saying I love those guys. But they [Carson Palmer and Payton Manning] don't get criticized as much as we do. They don't."
"One day we shall overcome . . . " — I don't think so.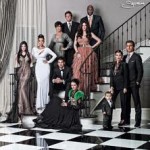 I was recently drawn to a picture of the Kardashian Family on a major website.  And even though it's 2011 it was unusual to see a Black face, Lamar Odom (Los Angeles Lakers), among such a high profile White family — even though he's famous among basketball fans.
(For those of you who may not know, Odom married Khloe Kardashian not long ago.)
Of course the family picture is beautiful, but I never hear the mainstream media talk about the diverse-minded attitudes of the women in the Kardashian family, particularly Kim and Khloe, both of whom have dated and married Black men.  It's not unusual for Blacks to accept Whites into their families – we've done so throughout history, for the most part, so the Black angle wouldn't really be a significant media story.
"I could be boning a White guy in the middle of the street, and they [the media] wouldn't say anything."
This is what a frustrated Kim Kardashian told her sister during a recent show after reading media rumors that followed her showing her soon-to-be opened NY store to friend Kanye West.  All he did was run over and check things out after she called him.  Obviously, Kim's well aware of the media's racism and infatuation with Black-White romance and/or sex.   Thus, it appears that Miss Kim has had enough of the — let's be brutally honest —  "N*#%@# Lover" media report insinuations and upcoming show highlights reveal her dating practically all White men.
This is still America, and if you don't believe we're a racist country, look at the Tea Party signs on television.   Look at how Hollywood still has a Whiteout going when it comes to minority actors and shows.  And the list goes on and on.
Now, let's be real, Black women might have an issue or two with any praising of Kim and Khloe for being diversity role models because many of the sistahs didn't even like Reggie Bush, Kim's ex-boyfriend, being put on the cover of Essence Magazine awhile back.  And quiet as kept, many sistahs are livid about Odom, and any wealthy Black man, taking their wealth into a White marriage.
Nonetheless, it really must be difficult for a high profile White female in America to date a Black man?  Yet the question has to be asked: would Kim or Khloe date an "average" Black man?
I'm not quite sure?  But I believe Kim got married at 19 to a brother, music producer Damian Thomas.  He was 29 and they divorced when she was 23.  If they didn't date or like Black men before they were famous, I'd doubt they'd do so now with the world's microscope hovering over them on television?  Neither Kardashian sister needs any man's money.
For 400 years Black folks have known what it's like to be discriminated against and we've always accepted those from other races into our families, so why should we view the Kardashian sistahs any differently.
I say we open the door and welcome the Kardashian girl's on into our home.