Farrakhan And His Fruit Of Islam Stop Gang Brawl In Chicago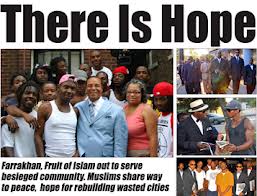 Walter L. Hilliard III
I was recently reading various stories and Black websites and came across a report about how Minister Louis Farrakhan and his Fruit of Islam guards, or army, stopped a potential gang brawl at a stop-the-violence event attended by a variety of Chicago leaders.  I also read that he was increasing efforts and releasing more of his troops into numerous cities around the country dealing with Black-on-Black violence.
Of course the democrats Rahm Emanuel, Chicago's mayor wasn't there; I'm sure he wouldn't be caught dead in the same place as Minister Farrakhan.  But he says he welcomes Minister Farrakhan's efforts.  I'm sure a 40 percent surge in Chicago's homicide rate doesn't look good when Emanuel is trying to promote his city to the world.
However, what bothers me, but never surprises me, is that not a peep about this story could be found in the mainstream media.  Excuse me, but I thought it was the media's job to report on such things?
But then I woke up.
The reality is that the mainstream media, politicians, and others could care less if Black people are dying everyday or if there's anyone trying to do anything about it, especially when it's Minister Farrakhan and his Nation of Islam.
Yet, even worst, there are probably just as many Black people that could care less, too.
How sad.