Basketball Crimestopper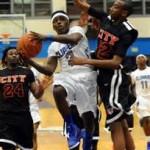 By Walter L. Hilliard III
Some time ago, I caught something quite disturbing to me — a story about a high school basketball player.
His name is Aquille Carr, a 5'8″ Bball artist, extraordinaire, racially profiled and I.D.'d as the Crime Stopper by his own people because, according to the CNN report I was watching, crime in the area stops when he plays. Even criminals like drug dealers halt their illegal activities to go watch him take his Ball Brush and paint yet another masterpiece on the basketball court.
Well, I suppose a basketball player everyone loves to watch can be a Crime Stopper?
But my question?  Was CNN glamorizing black pathology by showcasing a Black kid that even the police credit for crime in the neighborhood dropping 40 percent when he plays?
A native of East Baltimore and already a new father, Carr has already been profiled in GQ Magazine when he was only in junior in high school.
But what was also disappointing about the piece was the large number of parents standing on the outdoor basketball court watching the kids play, parents hoping their kids make the NBA; however, I doubt that this same number of parents show up at school PTA meetings.
Lastly, as if things could get any worse with this story, I was aghast when I watched Carr being introduced before a game and have his teammates pat him down like a cop patting down a suspect he's about to arrest.
Really?
Yes, really!