Allen "AI" Iverson Retires, A Career Forced to End Too Soon, Like Far Too Many Black Athletes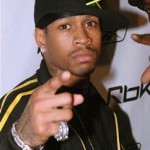 By Walter L. Hilliard III
Born June 7th, 1975 to a 1-year-old single-parent mother, drafted in 1996, Allen "A.I." Iverson was an 11-time NBA All-Star, four-time NBA scoring champion, 1997 Rookie of the Year, and twice was the league's Most Valuable Player. The leagues current best player and the only rival to Michael Jordan as the greatest of all time, LeBron James, says Iverson was probably pound-for-pound the greatest NBA player ever, only 6'0," 6'1" tall.
I can only remember ever buying one pro athlete's jersey or T-Shirt with their name and number on it and that athlete's jersey was Iverson's, number three.
Every time I heard stories about Iverson in recent years, the media talked about how he was trying to make a comeback to the NBA, but there were no takers, and I thought of Terrell "TO" Owens, Randy Moss, Donovan McNabb, Randall Cunningham, Kordell Steward, and a host of other Black players, some controversial and some not – but all victims of racial profiling and "disallowed," blacklisted from either being given a legitimate chance to play or start on their own team or another team after they had been traded and things didn't work out. Some of these athletes seemed to have sealed their fates with their teams and the media (TV, sports talk radio, blogs, etc.), a media that can also ruin a player's reputation because they were outspoken and labeled as poster children for bad behavior at some point. The media Black-male "poster-izers" labeled Owens the ultimate bad, self-absorbed teammate; Moss was a derelict, a thug; AI was portrayed as a defiant, weed-smoking derelict who couldn't control what the media called his posse, whether they were wrecking his cars, or simply attending a game with him. As far as the White players and their friends, well, that's what they were called, "friends," not a gang or posse.
But you really know media stereotypes, the "poster-izations," are operating or playing a role in the ending of many of the careers of Black athletes when you look at situations like that of Donovan McNabb or Warren Moon or Randall Cunningham), who was the ultimate company boy while a Philadelphia Eagle, always backing up his coach, staying out of trouble, taking the Eagles to five NFC championship games and a super bowl. He also made it to six Pro Bowls.
Mike Shanahan was the coach of the Washington Redskins when McNabb was traded there and he organization totally disrespected him, refused to rework their offense around his long-pass skill set, and intentionally leaked lies to the press that he was lazy (out of shape), couldn't grasp their offense (he's dumb) – issues he had never been accused of his entire career.
At the end of his career, Cunningham even broke passing records with Randy Moss when they both played for the Minnesota Vikings and yet he was gone not long after that, the next season. Kordell Stewart, who talked about how he had his his team in the AFC championship game one year and was on the bench and out of football a year later. Complained about his situation only after he was long gone from the league.
Iverson was also treated like a "nobody" when his skills dropped off, too, but what he had lost, most NBA players never even had. He was traded from the Philadelphia 76ers to the Denver Nuggets, the Detroit Pistons, the Memphis Grizzlies, and then back to the 76ers, officially, to retire. And it wasn't only White coaches that mistreated him, not trying to support his changing, but still good, skill set, Lionel Hollins, the Black coach of the Memphis Grizzlies, who signed him to a one year contract in 2009 when he was 34 years old benched Iverson. However, Iverson refused to accept this his coming- off-of-the-bench role for a struggling team because felt he was being degraded. He could still drop 30 on you, but he was also an exceptional passer, able to still make defenders respect his quickness and ability to get to the basket – and then dish the ball out for open teammates.
What I love most about Allen Iverson is that he displayed a defiance similar to that of Muhammad Ali, but without calling out the racist terms by which he was being judged, his hair was always ghetto fabulously in corn rolls/braids, he always sported the illest hip hop gear, and kept his hat tilted to the side with his doo-rag peaking out.
Iverson's resistance stands out like no other contemporary athlete's because he draped himself in hip hop, the voice of the ghetto streets, when no one else would. He rapped using controversial lyrics, embraced his childhood buddies when everyone was trying to get him to leave them behind – even to a fault, and he defied Plantation Overseer David Stern, the NBA commissioner, who's subtle racism targeted Iverson by implementing a dress code and even attacked his crossover dribble with a new rule. He never forgot where he came from and you cannot name a player that gave more of an effort, left his body, heart, and soul on the floor, being knocked down (but getting up) more than any player I can ever remember seeing. And all this, despite being 6'1" and rail-then.
Not every Black man or woman chooses to be as outspoken as Muhammad Ali, but of those who let you know they would stand by their people, their community, their beliefs, without saying it formally, no one did any better than Iverson. And what I also loved about him is he was the opposite of the self-absorbed Uncle Tom Michael Jordan, the Nike Boy, who said "Republicans buy sneakers, too" when the community tried to get him to support a Black candidate running against the racist Jesse Helms
Contemporary athletes, including their predecessor Dr. J, are more worried about their brand, David Sterns NBA brand, and how the public and sports media perceives them than they are about being themselves or speaking out on behalf of the Black community that helped make them who they are. Practically all Black athletes are like puppets, playing the public relations game exceptionally well. This goes for the ones that get into trouble, too, because they're just behaving badly, but they don't identify with Black people, their Blackness, unless they get into trouble, then it may be "It's because I'm Black."
Iverson let the world know he was a mamma's boy and he loved and spent time with his kids, who were often sitting on his lap during post-game interviews.
Iverson had the biggest competitive heart in the history of the game. I can remember how he even led his 76ers to the 2001 NBA Championship and a victory in Game One over the Shaquille O'Neal-Kobe Bryant-led Los Angeles Lakers, only to lose the next four games and the series.
Happy Retirement, A.I.! You really are Da Best!!!!