Monthly Archives:
March 2014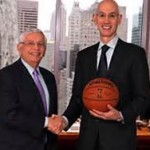 By Walter L. Hilliard III –
Back in 2005, as former NBA Commissioner David Stern was pushing for the NBA age limit with the players union, then Indiana Pacers center Jermaine O'Neal, who was drafted straight out of high school in 1996, stated: "In the last two or three years, the rookie of the year has a been a high school player. There were seven high school players in the All-Star game, so why we even talking an age limit?" O'Neal was drafted out of high school in 1996 by the Portland Trail Blazers.
"As a black guy, you kind of think that's the reason why it's coming up. You don't hear about it in baseball or hockey. To say you have to be 20, 21 to get in the league, it's unconstitutional. If I can go to the U.S. army and fight the war at 18, why can't you play basketball for 48 minutes?"
So here we are again and new NBA Commissioner Adam Silver is getting right down to business and continuing his predecessor's, David Stern, White paternalism, trying to increase what amounts to a "Black player" age limit for poor Black kids that happen to be talented basketball players.
It's okay to start a family and go to war or adult prison at 18, but you can't play in Adam Silver's "professional" basketball league?
I might be crazy but I thought America was supposed to be the land of opportunity, however, Black NBA prospects are being singled out with age restrictions because their sport is predominantly Black, and we know there's nothing worse to the White sports media and fans than some Black 'hood kid striking it rich in the NBA draft, stirring up jealousy and feelings that somehow a poor Black kid doesn't deserve to get so much money so early in life. Nonetheless, no one calls for an age limit in predominantly White sports like golf, tennis, baseball, hockey, etc. In fact, you can go pro before finishing high school in some of these sports. Only when Black NFLers or NBAers are concerned is there this kind of discrimination.
And leading the "media marketing anti-Black" charge are the usual suspects, inncluding Uncle Tom Charles Barkley, a "David Stern a*#-kisser." This foot-dragging, bumbling country fried coon has established a reputation for running out and telling Black people to "shut up" any time someone says something racist. And he's so bad that he even blamed Trayvon Martin for his own death, during his media "anti-Trayvon Martin" media tour.
Stern and Silver have been saying that they want more mature, NBA-talent-ready prospects that will improve the college (because they cannot leave college right away) and NBA game. But this issue should have nothing to do with a player coming out of high school being "ready" or emotionally mature or to improve the college and NBA game. This is America. The NBA is trying to put in a discriminatory age limit to cover for their lack of ability or talent to draft the best prospects, so their concern are young players turning into flops., as well as racism. But consider the case of NBA players like LeBron James, Tracey McGrady, Amare Stoudemire, Kevin Garnett, Kobe Bryant – all drafted out of high school before the current age limit was instituted.
So it doesn't look good for NBA prospects.
It will also be of critical importance for players of all races at NCAA Division I schools to join the union movement initiated by Northwestern football players and push for compensation during their college Basketball Slavery years because if they don't make the the professional ranks, their careers are over.
And we all know the graduation rates for Black players at these major schools hovers around 30 to 40 percent. But by the time these players reach college, they have been "drawn out" – mentally – by their AAU coaches, recruiters, and others seeking to profit off of their talents so most of them will not be looking to "get paid" in college unless the union movement sweeps them up and they then see the potential. Not to mention how difficult it will be to break away from the control of their coaches and athlete directors, who can threaten their scholarships.
It's time for NBA players to stop allowing themselves to be led around by their agents and develop some sense of a Black Social Consciousness. The have no trouble doing NBA Cares commercials, but where are the NBA Cares for poor Back kids in the Neighborhoods they Come from Commercial?
A UNIVERSAL SOUL POWER SOUL BREAK