Monthly Archives:
February 2017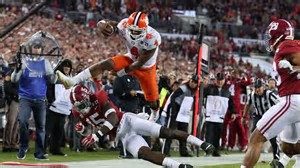 By Walter L. Hilliard III –
Yup, the San Francisco 49ers new head coach, Kyle Shanahan, new general manager, John Lynch, and the team's ownership, are just about ready to run a Black QB, Colin Kaepernick, out of town so I'm betting they don't select Clemson's Deshaun Watson — unless he absolutely blows them away in his interview, at the combine, or other workouts.  In fact, Bleacher Report has San Francisco drafting North Carolina's White QB — Mitch Trubisky–  ahead of Watson.  And Bleacher report projects Watson not even being drafted until the 20th spot.
But Mitch Trubisky?  Who in the hell is that?????
Watson is a national champion and the best QB on tape and in real life coming out of college, even smashing super team Alabama in this year's National Championship game.  The Cleveland Browns, who have the first pick in the draft, may draft a defensive end or a quarterback, some believe.  But what's so funny about this is they have a Black quarterback, Robert Griffith III, and many are saying Colin Kaepernick, one of the few other Black quarterbacks in the NFL, may be headed to Cleveland — or even Buffalo to replace yet another Black quarterback, Tyrod Taylor.  Are you starting to get the message here . . . that a few desperate NFL teams may even bring in or consider bringing in other over-achieving Black quarterbacks to replace their quarterbacks, but only because the White quarterbacks on the market are so horrific!
Hmmmmm . . . . ?
So Watson must blow the 49er's away in his interview . . . but this is what Black people have to learn — you can never please most White folks, for long, anyway, whether it's your performance review at work or you're trying to be an NFL quarterback.  The so called NFL analyst and talking heads will continue to cast doubt on Watson, the Heisman Trophy runner-up in 2016.
Mark my words — it's not a given that Watson will be drafted in the top three, even though all of these teams need a quarterback.
If you dispute what I'm saying about Watson's situation, or that Black quarterbacks are not preferred in the NFL, mainly because of racism or the fact that practically all NFL teams would rather have a White quarterback be the "face of the franchise."   The quarterback is also considered to be the "brains of the operation" or team — and we all know the stereotype that "Black people are less intelligent than White people."  I you believe race has little or nothing to do with the quarterback position, tell me why the NFL is 75 percent Black and only three to six of the 30 quarterbacks are ever Black?
The numbers just don't add up.
If Colin Kaepernick were White, he'd still be in San Francisco.  He's the most qualified quarterback on the open market.  And despite having some ups and downs, like all quarterbacks, he lead his team to a Super Bowl and two NFC Championship games.
I will be positing a statistical study that was done in recent years regarding Black quarterbacks being benched and treated differently than White quarterbacks, but in the mean time, like I said about the 49ers and Kyle Shanahan: the 49ers will only select Deshaun Watson as their first pick in the draft if he "blows them away" . . . mark my words!