Monthly Archives:
May 2017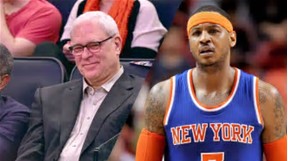 By Walter L. Hilliard III –
Nothing gets as close to the truth like sports.   No, sports is not reality or "truth personified," but it can be pretty damn close when it comes to the rawness, the true grit of performance, of merit.  And let's let's not forget that in sports the cream often —  in comparison to other areas — rises to the top, Black, White, or otherwise, but not always.
Enter NY Knick's team President Phil Jackson of Los Angeles Lakers and Chicago Bulls championship fame, the man who rode the coattails of a couple of the greatest players in history of the NBA, including Kobe Bryant, Shaquille O'Neal, Scottie Pippen and Michael Jordan — Jordan being the greatest player, ever.
But that was then, and this is now.