Monthly Archives:
July 2017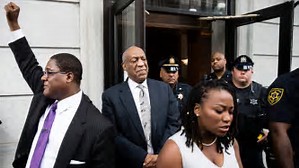 By Walter L. Hilliard III –
Yes!!!!  Cosby is FREEEEEEE  . . . for now, anyway.
So Andrea Constand, a former Temple University basketball staffer in 2004, said during that time Bill Cosby drugged and molested her.  (But she also said she went to his home, said she wasn't feeling well, and requested the Benadryl he gave her.  So which Constand can we believe?  I suppose it depends on who she's talking to and on which occasion?)
Judge Steven T. O'Neill, who facilitated Cosby jurors having to deliberate for 52 hours over six days (he was really creating the circumstances under which they'd be pressured into convicting Cosby), called a direct witness to Constand's lies "hearsay" and did not allow her former roommate's, Marguerite Jackson, direct conversation with Constand — conversation into court, a conversation that would reveal that Constand to be a liar and opportunist who sought and was able to get Cosby's money and attention.  Jackson claims  she and Constand were watching a report about Cosby being accused of sexual misconduct and Constand claimed she had a similar experience but had kept it to herself for some time.   However, when Jackson told her that the situation she experienced was serious and she needed to report it, Constand quickly came clean and said she really had not been drugged and sexually assaulted, but if she were to claim she had been, she could actually profit from the accusations.  Jackson claims Constand said she was going to "Get money, go to school, and start a business."
Some time later, according to Constand's one-time roommate, she saw a report in which Constand was claiming that Cosby did drug and sexually assault her.
But the lies, contradictions, and shenanigans didn't end there for this trial — "Black Man Ambulance Chaser" Gloria Allred was even kicked out of courtroom, twice, because she was caught mouthing to a witness what to say during the trial.
The fact is, Constand told three different stories about what happened to her to different police departments.  Constand got on the stand (and so did her mother) and was told that she made three different police reports, one to Canadian police, a contradictory story to a Pennsylvania police department, and a third different statement was given to the district attorney who's tried to convict Cosby — a politically ambitious district attorney who actually won his political race for district attorney based on his promise to go after and prosecute Cosby if he were elected to the position.
Constand also made statements that contradicted her abuse accusations as we came to find out that she had actually visited Cosby with incense, had romantic dinners, and even accepted several cashmere sweaters.  Constand's statements on the year Cosby supposedly assaulted her were also off by a wide margin.  And she was asked that if she's a lesbian why didn't she mention that to Mr. Cosby?  And why was she having so much "quiet time" with Cosby, even spending romantic time by a fireplace?  But even worse, phone records reveal that Constand called Cosby over 50 time, as well as tried to get her parents tickets to a his shows — again, after he allegedly molested her.
And so it is that the Montgomery County White Supremacist DA Kevin Steele and the criminal justice system did manage to drag Bill Cosby into court and put him on trial by illegally overriding laws, sealed records, manufactured lies, collusion, and so on.  Isn't it just amazing how institutional racism operates when its pawns have been born, bread and raised on racism, including the media, cops, juries, judges, and prosecutors?
Black people have to stop being distracted by Bill Cosby's criticism of the Black community years ago (particularly his 2004 Pound Cake speech at an NAACP awards ceremony in D.C, a speech in which he criticized Black America for it's materialistic, self-destructive behavior) as if that makes it okay to let White Supremacy's Black stereotyping media lynch Cosby based on the biggest 400-year-old lie — that Black men are rapist.  And not only is this fantastical lie ruining the lives of Black men every day, but the media wants us to believe that even one of the world's richest, most famous Black men decided to not only rape one White woman, the most ridiculous, rarest crime a Black man could ever dream about, wake up, and then dream about committing, but to rape, or molest, 10, 20, 30, 40 or more White women.
Fuckin' absurd!  What are his accusers smoking?
What are we smoking?
Yes, Cosby has unfairly criticized the Black community at times, but he has given millions to the community, including Black universities, in particular.  He has also given us a historic show, The Cosby Show, that changed how many around the world perceive Black people.  My biggest criticism of Cosby has always been that if you're going to criticize Black people, then also call out Hollyweird for its racism.  Don't pick on poor Blacks, the most vulnerable, while weaseling your way out of standing up to your phony White executive buddies in Tinsel Town.
Let this be a warning to all Black men — that if they, White supremacy, America, it's masses, media, and criminal justice system could do this to Bill Cosby, imagine what they can do to you and me?  Well, actually, we all already know — the system has been railroading Black men (usually with forced plea bargains, even when innocent) for 200 years, and you never hear about most of the brothas they buried under the prison.  In fact, cases overturned by DNA are twice as likely to involve Black men who have been wrongly convicted.
So if Bill Cosby is a rapist, the first question you have to ask is who is he raping?  (White women?  Hmmm . . . really, I don't know any Black man that has ever raped a White woman, especially a rich one?)   Where is he raping them?  (Wellllll . . . I wonder what kind of woman goes alone to a man's hotel room or house?  Maybe an actress or someone looking for favors Cosby could do for them.)   And if he's a millionaire, why does he need to drug and rape women when he could simply buy their cooperation?  (Uhhh, many of them actually did get money and other favors — and some came back, over and over, again and again, to get raped?  Lie!  Lie!  Lie!)  And why didn't any of them go to the police until years and years later?  Decades later?
Is it because, maybe, they weren't raped?  Where are the witnesses?  What kind of luck must a rich Black man have to rape, drug, molest, etc., 10, 20, 30 or more women — practically all White women, and not a one get up and go to the police?
Fucking absurd!
If Cosby or any man raped a woman, I'd be the first in line to send his ass to prison (and why does anyone that supports Cosby even have to say this at all, duhhhhh?).  But when the accusers and the system is a manifestation of White supremacy, a system that shoots Black people down dead in the streets, and still denies culpability, well, it's like believing in what a room full of bank robbers teaching an ethics class have to say.
Let's just tell it like it is:  racism is a mental illness — it's a distorted perception, delusion, blaming the victim, denial, and fears or phobias.  These are hallmarks of racism and they characterize the psyche of White supremacy to a T, especially in the case of how it has socially engineered the White masses to perceive Black people.  Thus, as I've said before, you could only be mentally ill to believe that a Black man in or out of Cosby's shoes could rape, drug or molest 30, 40, 60 White women (the few Black women are sprinkled in like pepper so White America can say the issue is not "racial") in America, the most racist country on the planet and in the history of the world, and not one, not a one, women get up and go tell the police at the "alleged" time of the rape.
Silly boy, silly girl, no way!