Typically, Networks 'Use' Black Shows to Grow, Then Ship Them Off to Black Networks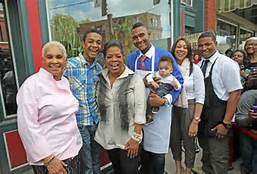 By Walter L. Hilliard III –
We could go way back when to discuss how the Fox network "used" "In Living Color," "Martin,"etc., as well as other Black shows, like other networks have "used" Blacks, to build their network, then dumped the shows and their Black audiences.
More recently, Black shows being "used":  "The Game," canceled by the CW (owned by CBS and Paramount) and later moved to BET; and Queen Latifah's (producer) "Single Ladies," discontinued by VH1 and picked up by the Centric network (targets Blacks) – both are owned by Viacom.
But what's even more offensive is how the Queen of Mainstream TV, Oprah Winfrey, needed Black shows to save her network, OWN (50-50 shared ownership with the Discovery Channel), which is pretty funny because she typically ignores Black people and issues like racism.  So when her network was tanking, the Black show "Sweetie Pie's" (features former Tina Turner backup singer Robbie Montgomery and her restaurant business) was just about the only bright spot.   Next came Iyanla Vanzant, and eventually Tyler Perry and others.  Actually, there are about 13 Black shows featured on the network.  And mark my words, once Oprah reaches the top again, she'll ditch her "Black strategy" and her Black audience.
Thus, whether it's picking cotton or other forms of Black exploitation, Black bodies are always providing ways for White families to make a living or get rich.  For example, despite all the money Black shows are bringing into OWN, think about all the pictures you've ever seen of Oprah's staff and you'll see very few Blacks.  Also consider the criminal justice system and look at the great lives judges, attorneys, prison guards, cops, healthcare services and others have — and you'll see how  Black lives make White privilege and supremacy possible.
And they call us lazy.