Just a Quick Thought On White 'No Blacks Allowed' Music, Billboard, Rolling Stone, The Grammys, Etc…..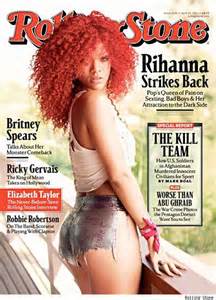 By Walter L. Hilliard III
I was recently reading a Rolling Stone magazine article on a Black website discussing the sudden death of Rodney Bryce, DJ E-Z Rock, of "It Takes Two" fame, a song he created with rap mate Rob Base and producer Teddy Riley, when I decided to check out Rolling Stones website. As I scanned the headlines I realized that there was only one person of color among the 50 or so faces on the main page. And that one minority face was that of murderer Aaron Hernandez, the former New England Patriot tight end charged with killing his Black friend, Odin Lloyd.
I mean, who does Rolling Stone think they're fooling with their "Whites Only" website?  But, then again, Rolling Stone magazine is simply doing what the Grammys, Billboard, and all the rest of the music business are does, but rarely get called out for, maintaining White supremacy through the exclusion of minorities.
Few know or remember that Rolling Stone magazine would not even put James Brown on the cover – until he he got into trouble with the police in the 1980s and was sent to jail.  How do you not put James Brown on your cover?  Huh?  Really?  You're that racist?  Wow!
Yes, we're talking about James Brown, an icon and the Godfather of Soul, and a very controversial socially conscious (?) icon who once even stopped a riot in Boston at a time when riots were going on in 150 American cities around the country after Martin Luther King was killed in 1968.
Black people, yaw better wake up and realize that we're still on a plantation, a plantation that glamorizes a few highly paid slaves.  These slaves,  the Kevin Harts, the Puff Daddys, and the Rihannas of the world believe they cannot do anything unless White folks allow them to, whether it's their agents, lawyers, record companies, or whomever.  And let any of these celebrity slaves start speaking up about racism or try to use their wealth and high profile to demand an end to racism in their industries and the larger American society — well, you'd better believe you wouldn't see them in the mainstream media anymore.
Ultimately, at least our Black athletes and entertainers have a great deal more wealth and/or resources than you and I do, or "average Black folks," so if so many of us can speak up, taking risks, why can't they?
I would say things would be better when the tired old racist move on, but they are always training the next generation of young Whites to believe they are "entitled" and supposed to rule over Black people.